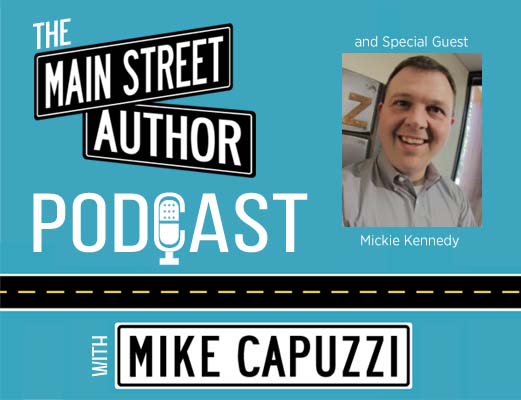 Main Street Author Podcast-Episode #62
On this episode of the Main Street Author Podcast, I am having a conversation with PR expert and author, Mickie Kennedy.
Mickie is the founder of eReleases, a 22-year old company that helps small businesses, startups, and authors get website traffic and better quality customers through coverage in the media. eReleases writes and distributes press releases to journalists, trade publications, and key industry influencers, increasing your visibility and credibility, while bringing you more revenue from your dream clients.
Mickie is the author of the book, the Beginner's Guide to Writing Powerful Press Releases. If you are interested in leveraging a PR strategy for your book or business, I highly recommend this book which you can get on Amazon for FREE here. 
I interviewed Mickie in mid-February 2021 for this episode.  During our conversation, he told me about a one-hour training video he created on how to effectively use press releases. Mickie said the video was generating some good traffic for him, so I suggested he take the video's script and turn it into a short, helpful book-a shook.
You can see Mickie's video and get a free digital copy of his shook here.
To Mickie's credit, his first shook, The PR Strategy Manifesto, is done and available on Amazon in less than two months! Again, what is so instructive here is that Mickie did not write this shook, per se.  Instead, he leveraged existing content (his video script) and turned it into a new marketing asset for his business.  
You can buy a copy of The PR Strategy Manifesto on Amazon here.
Click here to get a special offer to try out eReleases for your next press release.
Subscribe now on your favorite podcast player: