On this episode I am having a conversation with online business expert and Amazon best selling author, Meera Kothand.

Meera is a prolific short book author and as of today's date, she has 12 books for sale on Amazon, including several #1 best sellers. Her hundreds of book reviews is a testimony to the quality of her books.
Meera specializes in making marketing for your online business ridiculously simple. She has several Amazon Best-Sellers list including "One Hour Content Plan," "Selling the Intangible" and "The Blog Startup". She's also the founder of the popular CREATE Planners.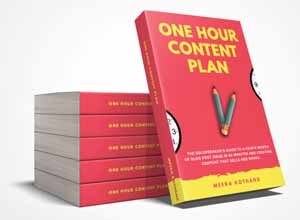 Meera shares a ton of actionable wisdom during our conversation, including two ideas I found super valuable (you can hear them at around the 11:00 mark and the other at around the 25:00 mark). 
Learn more about Meera by visiting at MeeraKothand.com.