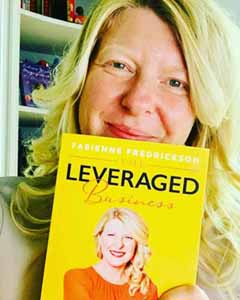 On this episode of The Author Factor Podcast I am having a conversation with business mentor and author, Fabienne Fredrickson.
For 20+ years, Fabienne has powerfully mentored thousands of women business owners to grow, then scale their businesses, earning them tens of millions collectively each year while increasing their time off to enjoy lives they love.
Fabienne is the author of two books. Her new book, The Leveraged Business: How You Can Go From Overwhelmed at 6-Figures to 7 Figures (and Get Your Life Back) is the new definitive roadmap on how she's done it with heart and how you can too, without sacrificing your life.
Learn more about Fabienne by visiting:
Get Notified When New Episodes Go Live